Sports Betting. Juventus vs Porto [14.03.17] : the Old Lady will saddle the Dragons
[ ]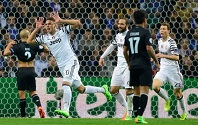 Champions League
Round of 16, return leg
14.03.2017
Bet: Juventus or Draw and Total Goals under 2,5
Juventus keep pushing hard in the Serie A, despite having a comfortable advantage over Roma and Napoli in the table. According to the sports betting markets the Old Lady were a strong favorite in their clash with Milan at the weekend and they got the 31st home win in a row. However, this victory was obtained on the last seconds and with a lot of efforts. But in general Juve show a high-quality performances and the betting experts guess they will easily get to the Champions League round of 8.
Read also: Soccer Betting Online
Porto don't have a lot of international-level stars, but they represent their country on the European arena with dignity. After getting through the group stage, they have been given their due by the sports betting experts. However, Nuno Espirito's team were not expected to overcome Juventus in the round of 16. As the betting companies predicted, Porto lost (0-2) in the first leg and thus almost surely forfeited the whole battle. Nevertheless, the dragons fiercely fight for the national trophy with Benfica.
Read also: United Kingdom Soccer Betting
While choosing a bet it's worth paying attention to the fact that Juventus are extremely dangerous on the home ground as they have 19 wins and only 2 draws in all competitions this season. As for Porto, they can't boast of being very consistent on the road, that's why they are unlikely to argue about the place in the Champions League quarterfinal. The betting experts notice that Allegri will miss Chiellini and Sturaro while Herrera and Corona won't play for Porto.
The bookmakers have any shadow of a doubt about who will get past this stage: Juventus – 1,02, Porto – 17,00. However, they are a bit cautious naming Juve the favorite of the return leg: Juventus – 1,62, Draw – 3,85, Porto – 5,75. It is explained by the fact that the Old Lady may be satisfied even with the draw. Nevertheless, Porto seem unlikely to make a stand in the away game, that's why it is recommended to bet on the Juve's win. There is also a good option "Juventus or Draw and Total Goals under 2,5" (2,04). Besides, you can bet on the "Total Goals by Away Team under 0,5" (1,93).