Betting. Thailand vs Australia [15.11.16] : to fight down the War Elephants
[ ]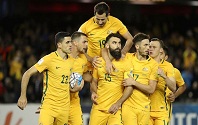 2018 FIFA World Cup, qualification
AFC, Third round, Group B
15.11.2016
Bet: Asian handicap Australia -1,5
Thailand managed to move on to the third round of 2018 FIFA World Cup qualification. However, the sports betting companies predicted that this stage of the competition would be insurmountable obstacle for the team. So at this moment the War Elephants are on the bottom of the group B. They lost all of their matches and scored only one goal, conceding 10. The betting experts think the Thailanders have no chance of qualifying to the World Cup, but they still can stir up some troubles for their rivals.
Read also: Cricket Betting
As it was predicted by sports betting experts Australia easily overcame the second qualifying round for 2018 FIFA World Cup. But the next stage is definitely more challenging and demands a lot of efforts. Ange Postecoglou's side has made a relatively good start as they remain unbeaten after the first 4 matches. However, considered to be an overdog by betting, they drew with Saudi Arabia (2:2) and Japan (1:1) after beating Iraq (2:0) and United Arab Emirates (1:0). So at this moment the Socceroos sit on the second place – 2 points behind the Saudi Arabia.
Read also: About Financial Aspect of Arbitrage Betting
While choosing a bet you have to pay attention to the head-to-head statistics. The Socceroos won all of the three previous encounters with the War Elephants with the total score of 7:1. Obviously, this game is a must-win for the Australians. In case of a victory Ange Postecoglou's side will have a chance to move to the first position as Japan will lock horns with Saudi Arabia. The betting experts remind that Australia haven't scored more than 2 goals in their last 7 matches squandering a lot of chances, but this game seems to be a good opportunity to break this tendency.
The bookmakers have no doubts in the Away Team's success: Thailand – 11,00, Draw – 5,50, Australia – 1,30. It is evident that the Socceroos will play at their maximum and they have to secure a comfortable win over a group underdog. So you can bet on "Asian handicap Australia -1,5" (1,90). Besides, it is advisable to choose "Total Goals by Home Team under 0,5" (1,90). Also, the bets "Total Goals by Away Team over 2" (1,60) and "Australia to win and Total Goals over 2,5" (1,77) are worth your attention.