Sports Betting. Celtic vs Barcelona [23.11.16] : Catalonian fury over Celts
[ ]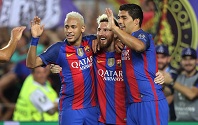 Champions League
Group C
23.11.2016
Bet: Both Teams To Score: No
Sports betting experts have no doubt that Barcelona will take three points in this game. The 90 Minutes market for Cules goes with an odd 1.28. Their first game in Spain ended with crushing 7-0 victory. Moreover Barça lost points in La Liga again making a 0-0 home draw with Malaga. So the gap between Luis Enrique's side and the leader Real Madrid is widened to the four points. That's why bets firmly believe in Catalan fury in Scotland.
Read also: Horse Racing Betting
At the same time Celtic is an obvious underdog not only in this match (10.00) but in group as well. Even a Draw is evaluated by 5.50 odds. Betting people said that from the first glance The Hoops nave no chances to withstand Catalan monster. However in favor of Brendan Rodgers' boys signs 3-3 home draw with Manchester City. And 0-2 defeat from Borussia Mönchengladbach wasn't so hopeless. In any case bets reflect that Scottish club usually shows better performance on Celtic Park than in away matches.
Read also: Which sports to choose for sports gambling?
While betting you must remember that lopsided score shouldn't be expected. First of all Barcelona has got problems in midfield. The creation in attacking line is produced only by Star Trio – Neimar, Messi and Luis Suarez. But each of them shows instability of their mood from time to time. That's why it is logical to take one of the lowest Handicaps, for example, Match Handicap -1 Goal Barcelona (1.67) or Match Handicap -2 Goal Barcelona (2.80). Bets also confirm than alongside all Cules problems in defense it's doubtful that Celtic manage to score. So you may try such variant as "Both Teams To Score: No" (1.95).
Frankly speaking a single win provides Barcelona with a promotion to the play-off. Moreover is Manchester City lose points with Borussia it guarantees the first place for Cules. That's why Luis Enrique most likely to get the victory without additional expenditures. So gamblers may try such bets as Total Match Goals Under 2.5 (2.75). And for risky lovers we may propose "Barcelona win and Under 2.5" (4.00). But the more reasonable variant is Total Match Goals Under 3.5 (1.61).