Sports Betting. Arsenal vs Southampton [30.11.16] : the Saints are a hard target for the Gunners
[ ]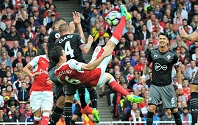 Football League Cup
Round of 8
30.11.2016
Bet: Winning margin Arsenal 1 goal or draw
Despite sports betting experts' skepticism the season got off to a very good start for Arsenal. Still having one game to play in the Champions League, they have already moved on to the knockout stage. In addition, after the first 13 Premier League matches the Gunners sit on the 4th position – only 3 points behind the leading Chelsea. This weekend Arsene Wenger's side managed to overcome Bournemouth (3-1). Arsenal was considered to be a favorite on the betting markets, but the match turned out to be quite difficult for the Gunners. However, Wenger's team did their best to get 3 points.
Read also: Sports Gambling
As for Southampton, they definitely lack consistency under the direction of their new manager Claude Puel. For instance, contrary to all sports betting predictions they lost to Hull City (1-2), but managed to draw with Liverpool (0-0) and Manchester City (1-1). This weekend the Saints beat Everton due to a very early goal of Charlie Austin. So at this moment Southampton is in the middle of the Table – on the 10th position. Besides, Puel's side is also playing in the Europa League and the upcoming match against Hapoel Be'er Sheva, in which the Saints are considered to be a favorite by betting companies, will decide whether they will play in the playoffs.
Read also: American Horse Racing
While choosing a bet you should take into account the fact that apart from the Premier League, both teams are involved in the European campaigns and spend a lot of efforts and energy there. That's why there is no wonder that these clubs need to give a break to their key players. On the previous stages of the EFL Cup both Wenger and Puel gave the playing time to those who usually don't get it in the Premier League or in Europe. However, even without their best guys, Arsenal outclassed Nottingham Forest (4-0) and Reading (2-0) while Southampton defeated Crystal Palace (2-0) and Sunderland (2-0). By the way, the betting experts remind that this season the two clubs have already met at the Emirates Stadium. Arsenal got a hard-fought 2-1 win.
The bookmakers give the preference to the host: Arsenal – 1,78, Draw – 3,85, Southampton – 4,35. Wenger is likely to keep his key players sidelined, but even so the Gunners are still dangerous on their field, where they have lost only once so far this season. On the other hand, as a rule, matches against the Saints are always difficult for the Londoners, so you can bet on "Asian Handicap Southampton (+1)" (1,61). There is also a good option "Winning margin Arsenal 1 goal or draw" (1,88).