Betting. Real Madrid vs Kashima Antlers [18.12.16] : no chances for The Deer as Blancos to lift trophy
[ ]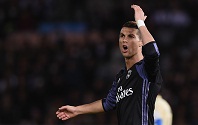 2016 FIFA Club World Cup
Final
18.12.2016
Bet: Double Result: Draw/Real Madrid
It was a big surprise for sports betting experts but Kashima Antlers managed to get through all stages of FIFA Club World Cup and find itself into final. The club was always underdog. However it step by step overcame Auckland City 2-1 in play-off for quarter-finals, Mamelodi Sundowns 2-0 in quarter-finals and Atlético Nacional 3-0 in semi-finals. And in the final The Deer are considered by bookmakers to be the underdog as well with odds of 29.00. Even a Draw is unreachable (8.50), bets said.
Read also: Horse Racing Betting
At the same time Real Madrid is an obvious overdog with odds of 1.10. While betting you should remember that Spanish side had some problems in semi-finals with América from Mexico but nevertheless beat the opponent 2-0. In addition betting people admit that Blancos are comfortably leading in La Liga with six point handicap over Barcelona. Moreover its series without any defeat has been going on since the early April and numbers 36 matches in a row.
Read also: Trusted Football Betting Strategies to Bet with Bookmakers
Just to be clear there are no any chances for The Deer to reach a positive outcome. For example, bets such as "Double Chance: Kashima Antlers Or Draw" is evaluated by 6.00. Another one "Kashima Antlers To Lift Trophy" is going with odds 10.00. Betting experts admit that Japanese side plays de facto at home but Real Madrid shows a solid performance in away matches. Even draws is a rare occurrence for Blancos. That's because Zinedine Zidane's boys are more qualified despite diligence and motivation of Japanese for the final.
As to the specific bets gamblers may try "Double Result: Draw/Real Madrid" with the odds of 4.75. Spaniards usually don't show bright performance in the first half but very effective in the second when there is a need to finish squeezing the rival. The most powerful Blancos weapon is corners and Sergio Ramos head to put the ball into the opponent net. If you want to take Correct Score you may choose between 1-0 (7.50), 2-0 (5.50) and 3-0 (5.50) because Kashima Antlers is unlikely to break through Merengues' defence which is now the best line in Madrid team.