Sports Online Betting » Arbitrage Betting »

How to Pick Bookmaker for Arbitrage Betting?
How to Pick Bookmaker for Arbitrage Betting?
[ ]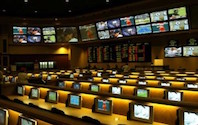 Now you know more about arbitrage betting and its basic rules. You can create an account with any bookmaker and start placing arbitrage bets. On our website, you'll find useful and informative bookie reviews to pick the best bookmaker for arbitrage betting.
Remember that every bettor chooses the level of risk for themselves. Many bettors are tempered with the idea to become rich through betting with shady bookies. Anyway, the choice is all yours: either to have a chance to win a fortune with suspicious bookies, or only stick to reliable and trusted betting sites. Anyway, keeping all your betting money with questionable bookmakers might not be such a good idea.
Which bookmakers offer the best deposit&withdrawal terms?
As a rule, high-profile bookmakers offer good deposit&withdrawal terms to their clients. Betting websites listed on our rating ask for multiple document scans before allowing you to make deposit or withdrawal transactions. Remember that it's for your own good. This is a security measure to protect your money from swindlers.
Which bookmakers do not set maximum limits on bets and do not cut arbitrage betting opportunities?
Bookies on top of our list are the most trusted and high-profile betting websites. Nonetheless, most bookmakers tend to impose all kinds of restrictions, such as maximum bet limits.
How many bookmakers should I choose?
The more bookies you're registered with, the more arbitrage betting opportunities – and winning opportunities – will be available to you. For a start, you should have one basic bookmaker, a couple of source bookies, and at least one bookie whose betting lines is lagging behind. Use this last bookie to refine your betting skills and gain some experience.
How do I avoid maximum bet limits and account freeze?
Do not bet large sums of money on one arbitrage betting opportunity with shady bookies. However attractive, just one arbitrage betting situation may deplete your entire bankroll. Our advice is to make small but frequent bets. Remember another important thing. Any withdrawal request draws a bookmaker's attention to your account. This is why we recommend you to submit withdrawal requests only when it's really necessary. Try to ignore bookmaker's mistakes and not place bets on them.