Sports Online Betting » Arbitrage Betting »

Arbitrage Betting: FAQ
Arbitrage Betting: FAQ
[ ]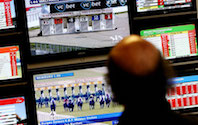 In this article, we'll explore the topic of arbitrage betting (aka surebets). We'll address the questions most frequently asked by beginners: how to start making money on arbitrage betting? how to withdraw your winnings? and many more. Furthermore, we'll give a couple of useful tips to minimize your losses in the beginning.
What are arbitrage betting opportunities?
An arbitrage betting opportunity is a chance to place bets on a certain sports outcome with different bookmakers and earn money regardless of the actual outcome of the game. In arbitrage betting, you can win up to several per cent of your bet.
Is arbitrage betting legal?
Just like standard bets, placing arbitrage bets is absolutely legal. In fact, a bookie offers a price and you either reject it, or accept by placing a bet online. Services designed to search for the best odds and arbitrage betting opportunities work just platforms to compare prices across online stores. You can rest assured: earning money on arbitrage betting is absolutely within the law.
If arbitrage betting is a profitable business, why are few people involved in it?
First, not everyone knows about arbitrage betting. Second, few people believe that you can really make money on something like arbitrage betting. Third, any money-making method has its pros and cons. You can choose whatever method you like based on your personal preferences and income expectations. All in all, arbitrage betting offer pretty good opportunities to make profits. While risks stay at a reasonable level, your chances to succeed are pretty high.
How much can I earn? How much time does arbitrage betting require?
There is no set profit amount. Everything depends on the size of your investments in arbitrage betting. The bigger your bankroll, the higher will be your potential income. As to your income in per cent of your investment, you may earn less on larger investments than on smaller ones. This is due to maximum bet limits introduced by bookmakers. If you're placing small bets, though, you have nothing to worry about. While your potential winnings vary heavily across bettors, you can easily increase your bankroll by 10-15% a month.
The time needed for arbitrage betting depends purely on your goals and amount of money you're willing to spend. For beginners, 1-2 hours will suffice. Once your bankroll grows fatter, you can dedicate more time to arbitrage betting. A nice thing is that your profits are displayed right in the calculator. This will help you adjust the time you spend on betting.
How do I avoid losses in arbitrage betting?
First and foremost, we recommend you to read a series of arbitrage betting articles on our website. This section includes detailed answers to the most important questions. With this information, you'll find your path in the world of arbitrage gambling and get around severe mistakes with ease.