Betting. Arsenal vs Bayern Munich [07.03.17] : Gunners' farewell to the Champions League
[ ]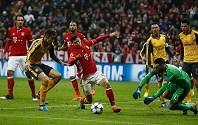 Champions League
Round of 16, return leg
07.03.2017
Bet: Both Teams to Score and Total Goals over 2,5
As it was predicted by the sports betting companies Arsenal have dropped back in the last month. After quite a long winning streak the Gunners suffered 4 losses in their last 6 matches in all competitions. So at this moment Wenger's side are out of the top-4 in the Premier League table and the betting experts think they won't be able to bridge the gap of 13 points to fight for the title. What's more, Arsenal have been thrashed by Bayern Munich (1-5) in the first leg of the Champions League playoff battle.
Read also: Arbitrage Betting
In spite of demonstrating less impressive football this season Bayern Munich are still considered to be the main Bundesliga overdog on the sports betting markets. Ancellotti's team sit atop of the table with 7-point advantage over the nearest opponent. Besides, the Star of the South have almost secured the place in the Champions League round of 8 due to a convincing 5-1 win over Arsenal. However, according to the betting predictions, the return game in London won't be a pure formality.
Read also: Why do you need to compare odds across online bookmakers?
While choosing a bet it's worth keeping in mind the fact that Bayern Munich are unbeaten in their last 18 matches in all competitions. At the same time, after the defeats suffered at the hands of Chelsea, Bayern and Liverpool, Arsenal's mental toughness are on the zero level. In addition, they are held back by the habitual injury crisis. The betting experts mention that Ozil, Cazorla and Elneny will miss the upcoming fixture.
The bookmakers believe Arsenal have no chances to come back from 4 goals down. They even don't consider them to be favorites at Emirates: Arsenal – 3,15, Draw – 3,60, Bayern Munich – 2,20. As the Gunners' defense look quite shaky it is recommended to bet on the "Total Goals by Away Team over 1,5" (1,74). Besides, there is a good option "Both Teams to Score and Total Goals over 2,5" (1,72). Finally, you can back the bet "Bayern or Draw and Total Goals over 2,5" (2,30).