Sports Online Betting » Online Bookmakers »

Why do you need to compare odds across online bookmakers?
Why do you need to compare odds across online bookmakers?
[ ]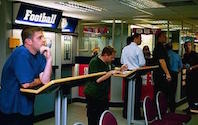 Most bookmakers set similar odds for the same events – at least the ones popular among bettors.
At first, it may seem that there is no use comparing bookie odds. This not entirely true, though. Any betting line includes several odds that differ heavily from the average market values.
To reduce a sportsbook's edge over a bettor and increase your winning chances, you should opt for higher odds. Analyze several online betting lines offered by different online bookmakers and find the most favorable options.
Bookmaker's profit margin
You probably know that all online bookmakers incorporate a margin in their odds. A low margin is good for a bettor. To pick the odds with a low margin, take your time to analyze and compare the odds across bookies.
A bookmaker'a profit margin affects your potential winnings in the long run. Every per cent matters. By constantly comparing the odds across online bookmakers, you can find the best offer.
Of course, you need to have deposits with several bookies to be able to detect and use the best offers. But the result is definitely worth the effort.
Searching for arbitrage betting opportunities
Arbitrage bets are another common reason why bettors compare the odds across bookmakers. With arbitrage betting, you can make up for a bookie's profit margin and receive profits regardless of the outcome of the game.
To practice arbitrage betting, you'll have to plough through loads of statistical information and check every arbitrage betting opportunity found. For your efforts you will be rewarded with real winnings.
Bad news is that online bookmakers do not welcome arbitrage bettors and set limits on arbitrage bets.
Searching for underestimated outcomes at sportsbook
Probabilities of different outcomes may vary across bookmakers. An underestimated sports outcome is a great opportunity to place a successful sport bet.
For example, if a bookie lacks accurate and relevant information about a certain team/athlete, it sets higher odds. But in reality, such a team/athlete has all chances to win the game, which makes the bookie's prediction incorrect.
For a bettor, such underestimated outcomes are a valuable asset. But to detect them, you must study and analyze the odds. To make use of arbitrage betting opportunities, you must be good at determining the odds yourself. This is the question of experience.